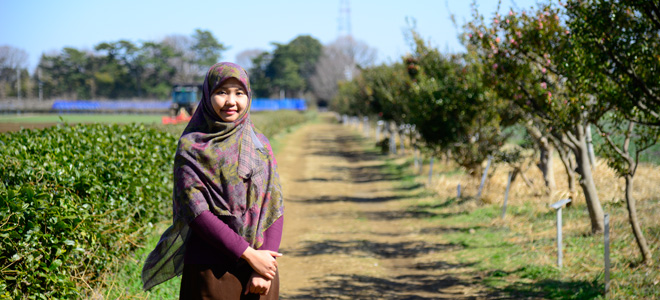 Sharing the leading technology on Plant Breeding in Indonesia
Vol.03 2014.04.01
Desis KURNIYATI From Indonesia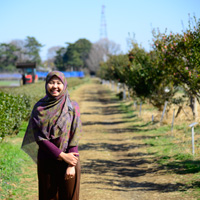 I came to know about the STEP Program from an Exchange Program Coordinator at my university who is also a former graduate from TUAT. I used to study Japanese language and culture in Indonesia, so when this unique opportunity to come to Japan appeared, I didn't think twice before applying. One of the things that surprised me most after getting here was the friendliness of TUAT students. In the beginning, everybody is really shy and not very open to conversation, but once you become friends, you realize how nice they are. I was also surprised about how big is the Indonesian students' community here. Together we organized a badminton cup, performed a Balinese dance and an Angklung concert at the Nokosai (TUAT's Festival) and had much fun.
In class, we are able to learn a wide range of subjects from Agriculture and Technology in English. For example, in the "Japanese Science and Technology" class from Professor Tatsuo Noma, we had the task of choosing a topic, say Bioceramics or Acid Rain, researching the contents by ourselves and preparing a presentation. Compared to the classes we have in Indonesia, I'd say we have a lot more opportunities to present, which helped me improve my presentation skills. In Associate Professor Motoki Kanekatsu's classes, I had the opportunity to learn more about the latest techniques in Plant Breeding, which is my field of interest. Approaches different from the ones we have in Indonesia are really informative.
STEP Program also allowed me to learn more about Japanese culture in-class and also during my spare time. I recently started enjoying Japanese anime and tv series and became even more interested in deepening my knowledge about Japan. After completing my undergraduate studies, I'd like to continue specializing in the field of Plant Breeding and if I get the chance, pursue my postgraduate studies at TUAT. My dream is to become someone who's capable of connecting and sharing the world's most advanced knowledge and technologies to as many people as possible. To do so, I wish to become a university professor in Indonesia in the future.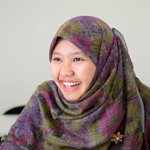 Profile
Desis KURNIYATI From Indonesia
From Lampung, Indonesia. Enrolled in Lampung University, Desis is in the 4th year of her undergraduate studies in Agro-Technology. Her research interest is in Plant Breeding. At TUAT, she is enrolled in the 1-year STEP Program for 2013-2014. She is 22 now.
Voices TOP