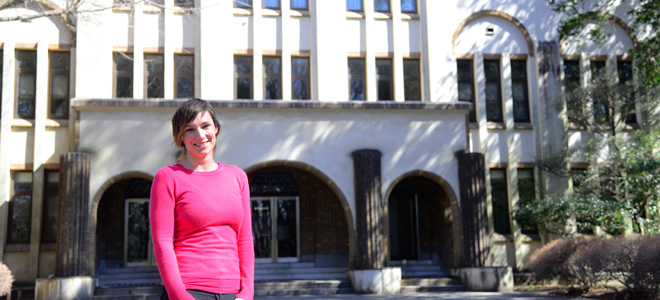 Learning about urban systems and environmental technologies in Japan to make the Urban Farming dream real
Vol.01 2014.04.01
Dominika KRYSINSKA From Poland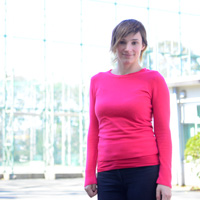 After majoring in Architecture in a Polish University, I studied Regional Development and Urban Planning for a year. I also worked in a company with regional development projects afterwards. As for now, I am a Masters student at the Polish-Japanese Institute of Information Technology (PJWSTK) and my major is in Project Management..
Through my studies and work experiences, Japan was a country that always fascinated me. The punctuality of the transportation system, the orderly and peaceful environment, the ideal place to live in without much safety concerns… I wanted to see all that with my own eyes and that motivated me to take part in the STEP Program..
Living in Tokyo made me realize how much the city is indeed well organized. Cars respect pedestrians and both coexist smoothly. It's something a bit unimaginable in Warsaw nowadays. And not only that; the way that people dress, that sweets are displayed, and that items in general are aligned, all transpire this constant seek for "beauty" in the smallest details. Moreover, I was amazed to see how much green there is in the middle of Tokyo with its huge parks and rooftop gardens. I want to absorb as much as possible about the rules and mechanisms that makes this city such a well-managed one before returning to Poland. .
At the moment I live in the International House in the Koganei Campus. It is a 30-minute bicycle-ride to Fuchu Campus, which I attend the most, but it is a good daily exercise for me..
TUAT staff is really supportive and sweet and I have nothing but gratitude to the way they care for us, exchange students. I also like the fact that, despite being a short 1-year program, STEP Program allows us to carry on independent studies and research at a lab of our choice..
My research focus at PJWSTK has been on Urban Farming (also known as Vertical Farming) in the worlds' big cities and under the supervision of Associate Professor Masaaki Yamada, from the International Environmental and Agricultural Science Department, I plan to research the leading examples of Asia and more specifically, of Japan..
Urban Farming is a concept in which we utilize urban spaces such as house yards, rooftops or even indoor spaces to grow vegetables and other crops and consume its products within the area it was produced.
I believe there will be a growing need for designing both residential and commercial buildings that incorporate this concept in their plans. In the long term, you can imagine this big picture: Urban Farming being a widespread system in the urban areas, "local production for local consumption" will be a reality even in the most crowded cities' center; transportation costs and fuel consumption will be reduced, as well as the emission of gases by trucks, leading to a more environmentally-friendly society. The Urban Farming concept may be just a dream now, but I firmly believe that I can find clues in the Japanese urban system and its environmental technologies to make it closer to reality. .
If I have the chance, I am also considering a PhD program in the field of Urban Farming at TUAT, for conducting a more specialized research..
In the future, I would like to work in the urban development field to improve people's livelihoods, not only in Poland but throughout the whole Europe.
Profile
Dominika KRYSINSKA From Poland
From Warsaw, Poland. After obtaining her degree in Architecture from Warsaw University of Technology, Dominika studied Regional Development for a year and is currently enrolled in the Polish-Japanese Institute of Information Technology for a Master's Degree in Project Management. At TUAT, she is enrolled in the 1-year STEP Program for 2013-2014.
Voices TOP