Curriculum | Practical Trainings
Practical, hands-on training sessions outside the classroom comprise a large part of the FOLENS curriculum.
These help students to develop the field-oriented mind and skill sets required of capable environmental leaders.
Fieldwork in Rural Communities
To Syllabus
To propose and implement appropriate measures against environmental issues as a leader in the real world, anyone must have proper understanding of a society and people there. This course aims to help students recognize the importance and difficulty to understand society and people, and develop necessary attitudes and view points for it, through lectures and fieldwork in a Japanese rural community.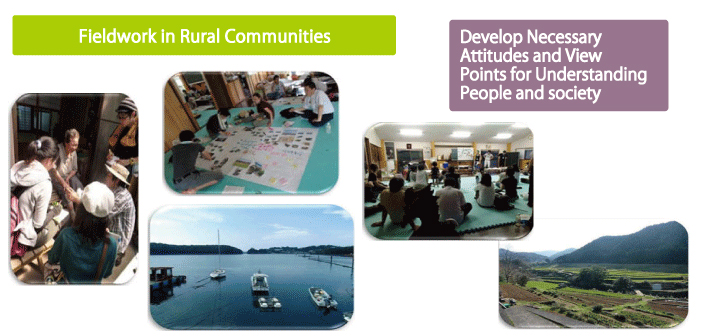 Training for Environmental Data Acquisition and Assessment (Field Monitoring Laboratory)
To Syllabus
This subject aims at developing the skills and techniques necessary for acquiring, analyzing, and assessing data collected from natural environments, including water, air, land, and ecological systems. Utilizing the FOLENS Field Monitoring Laboratory and other TUAT facilities, it equips students for their field research with not only data collection techniques but also skills for planning field work and understanding of data correlations.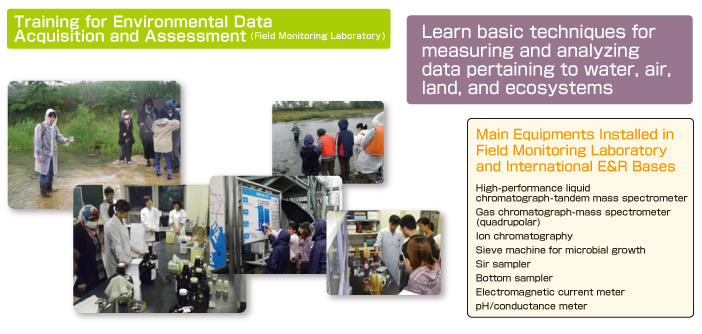 Green Technology Practice
To Syllabus
To practice countermeasure technology for the environmental issue in Asia and Africa we take up waste management and study below.
① Studies waste management of Japan and Thailand.
② Discussion about the landfill of Asian countries visiting CESS(Center for Environmental Science in Saitama) and investigation into landfill in Japan.
③ Practice TOC,COD and heavy metal removal test for soil as PRB (Permeable Reactive Barrier) and studies one remediation technology of polluted landfill in Asia .
Subjective Exercises for International Environmental and Agricultural Research

To Syllabus

This exercise aims at developing practical methods for coping with present agricultural and environmental issues in developing countries. In particular, GIS techniques, fieldwork techniques and discussion techniques are focused as important and useful techniques for students to acquire.