Welcome to Tropical Agriculture and Forestry Workshop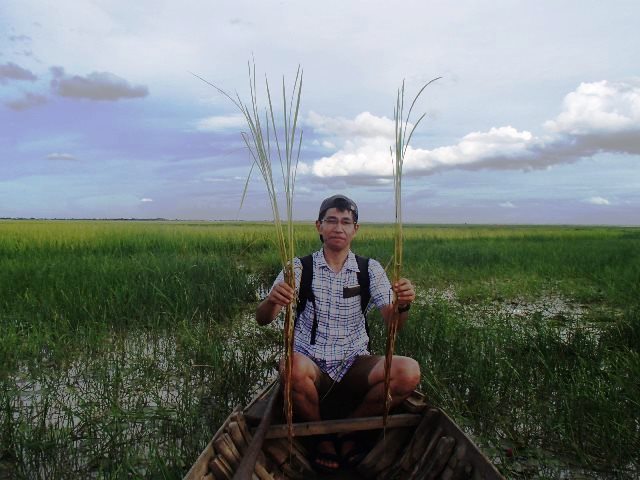 We have been studying sustainable agriculture, agroforestry, and forest resource management in the tropics, Our Workshop aims to share and exchange information and experiences of appropriate technologies on agriculture and forestry with interdisciplinary participants, and improve our skills and practices, appropriate technologies, and extension services in the fields.
The workshop also aims to develop our self-learning, communication, and ability to take action.
Contact: Yosei OIKAWA (e-mail: yosei (at) cc.tuat.ac.jp)
Jump to Department of IEAS
Weekly Seminars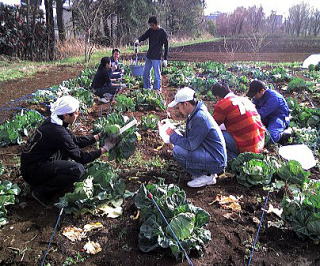 Weekly seminar series in TUAT
We have weekly seminar meetings to share information on sustainable agriculture, agriculltural and agroforestry extension. Participants report their progress of ongoing research projects on every Tuesday afternoon at 2N-402, the 2nd Building, Fuchu Campus of TUAT.
Keywords: Sustainable agriculture/agroforestry/forestry, charcoal application, lowinput farming, soil amendment, agricultural extension and education, etc.
Seminars series held by Prof. Masaaki Yamada
Prof. Yamada organizes joint seminar series on socioeconomic aspect of rural development, technical cooperation, and environmental issues in Fuchu Campus of TUAT. Our workshop members also participate in the seminar series.
Keywords: Rural development, sustainable agriculture, agroforestry, eco-rural tourism, farm management, agricultural cooperatives, etc.
Thesis Titles
The following table shows thesis titles of previous workshop members.
| Year | Titles |
| --- | --- |
| Sept. 2018 | Enhancing rice farmers' income through Agricultural Cooperative and Contract Farming Scheme in Cambodia |
| Sept. 2017 | Constraints of vegetable production by smallholder farmers in Cambodia: A case study in Rolea B'ier District, Kampong Chhnang Province |
| Sept. 2017 | Effect of growing media from cow dung and sawdust biochar on the growth of ginger (Zingiber officinale Roscoe) rhizome |
| Sept. 2017 | Impact of Salibu rice cultivation on rice yield, input, and profitability in Muara Enim Regency, South Sumatra Province, Indonesia |
| Sept. 2016 | Effect of rice husk biochar and organic fertilizer on soil properties and rice productivity in Cambodia |
| Mar. 2015 | Farmers' perceptions on soil degradation problems and introduction of biochar amendment as a potential solution: A case study in Southern Shan State of Myanmar |
| Mar. 2015 | Effects of aquatic worms on paddy soil and the growth of rice |
| Sept. 2014 | Effects of biochar from Chromolaena odorata and rice husk combined with organic and inorganic fertilizers on soil property and crop biomass |
| Mar, 2014 | Introduction and improvement of low-input rice farming technology in central Vietnam |
| Mar. 2013 | Influence of rice husk charcoal on characteristics of organic fertilizer and crop yields |
| Sept. 2010 | Impact of floodplain vegetation changes and of Mimosa pigra invasion on fisheries production in the Tonle Sap Lake, Cambodia |
| Sept. 2009 | Oil palm development and its benefits to local residents in Sihanoukville, Cambodia |
| Sept. 2009 | Factors affecting farmers' adoption of organic rice cultivation in Cambodia |
| Mar. 2009 | School garden development in Zimbabwe |
| Sept. 2008 | Agricultural expansion and its effects on breeding habitat of Giant Ibis Pseudibis gigantea in Kulen Promtep Wildlife Sanctuary, northern Cambodia |
| Sept. 2008 | Socioeconomic aspects of agroforestry in buffer zone of Way Kambas National Park, Sumatra, Indonesia |
| Mar. 2008 | Participatory forest conservation Way Kambas National Park, Sumatra, Indonesia |
| Sept. 2007 | Effect of Bokashi on growth and yields of sweet corn and cabbage |
| Sept. 2006 | Local livelihoods and agricultural land use in Seima Biodiversity Conservation Area, Cambodia |
| March 2006 | Research and extension of silvopastoral system for forest conservation and rural development in West Timor (eastern Indonesia) |
| Sept. 2005 | Local attitudes toward conservation in Seima Biodiversity Conservation Area, Mondulkiri Province, Cambodia |
| Sept. 2005 | Effect of bio-fertilizers (bamboo charcoal & EM-bokashi) on the growth of upland rice and wheat |
| | |