国際会議
Global Map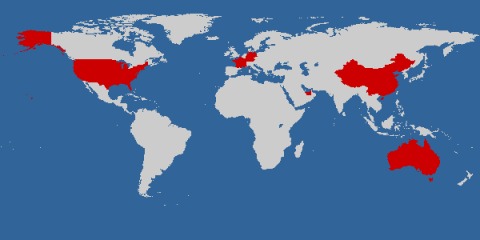 2019
中尾 春映, 鈴木 健仁, "国際会議報告:The 44th International Conference on Infrared, Millimeter, and Terahertz Waves (IRMMW-THz 2019)," 電気学会論文誌E(センサ・マイクロマシン部門誌), vol.139, no.12, pp.NL12_1, Dec. 2019.

Haruaki Nakao and Takehito Suzuki, "Terahertz 3D Components Made from Metamaterials," IRMMW-THz 2019, Paris, Sep. 2019.
Takeito Suzuki, Harumi Asada, Kazuhisa Watai, Haruaki Nakao, and Kota Endo, "Reflectionless metamaterials with high refractive indices for manipulation of thermal radiation," The 9th International Symposium on Radiative Transfer, Athens, Jun. 2019.
2018

Takehito Suzuki, "Transparent Terahertz Metamaterial with an Extremely Wide Range of Refractive Indices for Antenna Applications," The Third A3 Metamaterials Forum, I1, POSTECH, Korea, Aug. 2018.
History













これからも鈴木研の活躍にご期待ください。