Welcome To
Pesticide Fate and Transport Laboratory!!<![if !supportLineBreakNewLine]>
<![endif]>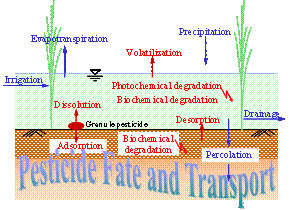 Preface
We currently investigate the pesticide fate and transport in agricultural environment. Both modeling and monitoring approaches are conducted.
Anybody interested in our activities feels free to contact us!
我々の研究室では,農業環境における農薬の動態をモニタリングとモデル化の手法を用い研究を進めています。
興味をお持ちの方はぜひお立ち寄りください。!
Hirozumi Watanabe (PhD, Professor)
Department of International Environmental and Agricultural Science,
Graduate School of Tokyo University of Agriculture and Technology
Our laboratory consists of two teams, monitoring team and modeling team. Monitoring team conducts field and laboratory scale experiments to analyze fate and transport processes of pesticides and to evaluate their adverse effect to human and ecotoxicology for aquatic and terrestrial environments. Modeling team develops the computer simulation model of pesticide fate and transport and utilizes it as decision-making tool or risk analysis tool. Through both processes, we suggest best management practice of use of pesticide.
私たちの研究室は,農薬動態に関するモニタリングチームとモデリングチームが力を合わせ研究を行っております。モニタリングチームは農薬動態に関する圃場での消長,降雨流出のデータ等を調査や実験を通してデータを解析し,農薬の動態解析を行います。モデリングチームは,モニタリングチームの解析より得られたデータや気象データなどの公開データをもとに,農薬動態予測モデルを開発し,モデルの調整,評価,検証を行います。
また,モニタリングデータやモデルシミュレーションの結果を用い,農薬の環境影響の低減をめざし農薬の最適管理手法の提案などを行います。
  

  





 

    



-------------------------------------------------------------------------
Official Website of Pesticide Fate and Transport Laboratory
Copyright 2010 Hirozumi Watanabe. All rights reserved.
Contact us: pochi (at) cc.tuat.ac.jp
------------------------------------------------------------------------