Research purpose 研究の概要 Metamaterials are the artificial components which have extraordinary optical properties. Extraordinal transmission, negative index, and super resolution can be realized by metamaterials. We aim to realize high performance electronic devices by utilizing specific optical properties acquired by metamaterials. メタマテリアルとは、自然界の材料では実現できない光学特性を持つ人工材料です。
メタマテリアルは、これまでの光学の常識では考えられなかった負の屈折率や、光の回折限界を超える超解像を実現するといわれています。当研究室では、メタマテリアルの光制御特性を利用し、光電子デバイスに活用する研究を行っています。高効率光エネルギー変換デバイス、低温廃熱エネルギーの再利用化、超高感度光センサの実現を目指しています。


(1) Plasmonic photo-thermoelectric phenomenon

 

プラズモニック光熱電発電


Plasmonic photo-thermoelectric conversion is a conversion of light power into electric current via plasmonic local heat and the Seebeck effect. The plasmonic photo-thermoelectric device consists of plasmonic atoms, which act as light detectors, and a thin film of thermoelectric material, which acts as a converter of local heat into electric current. This is a wavelength tunable photodetector and energy converter. プラズモニック光熱電変換は光エネルギーをプラズモンの局所的な熱を介して電気に変換するまったく新しい光電変換機構です。プラズモニック光熱電デバイスは光を検出するプラズモン構造体と電気に変換する熱電変換材料によって構成されています。駆動する波長を任意で選択できる光検出・エネルギー変換器です。将来的に、低温廃熱エネルギーの再利用素子、および高感度光検出器へ展開できると期待しています。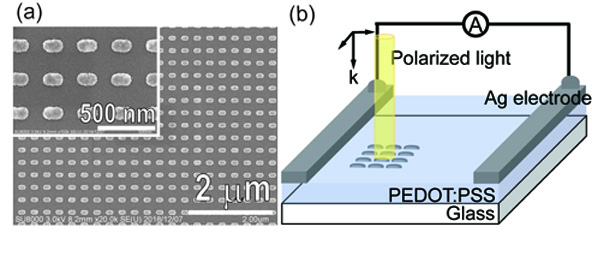 <![if !vml]><![endif]>
W. Kubo

, K. Kondo, and K. Miwa, "Quantitative Analysis of the Plasmonic Photo-thermoelectric Phenomenon", J. Phys. Chem. C, accepted.

W. Kubo

, S. Fujikawa, "Au double nanopillars with nanogap for plasmonic sensor" Nano Letters, 11, 8-15, 2011
.

<![if !vml]><![endif]>
W. Kubo
, H. Hayakawa, K. Miyoshi, S. Fujikawa, "Size-controlled simple fabrication of free-standing, ultralong metal nanobelt array" Journal of Nanoscience and Nanotechnology, 11, 131-137, 2011
.


(2) Metamaterial Perfect Absorber Solar Cell

完全吸収メタマテリアル太陽電池


Metamaterial perfect absorber is a fascinating structure for thin film solar cells since it can confine light into a tin dielectric layer between the metallic nanostructure and film. However, its actual impacts on device performance of solar cells remains unclear. We discovered metamateiral perfect absorber solar cell can enhance the device performance of an organic thin film solar cell because of its light confinement into the active layer. These findings give an insight into guidlines for highly efficient solar cells. 完全吸収メタマテリアル構造は薄膜に光を強く閉じ込める性質をもつことから、薄膜太陽電池の発電特性の向上を実現すると期待されています。しかし、実際の効果についてはこれまで明らかにされてはいませんでした。当研究室は完全吸収メタマテリアル構造が有機薄膜太陽電池の発電特性を向上させることを初めて見いだし、その増強機構を解明しました。今回解明した機構は高効率薄膜太陽電池の設計指針につながります。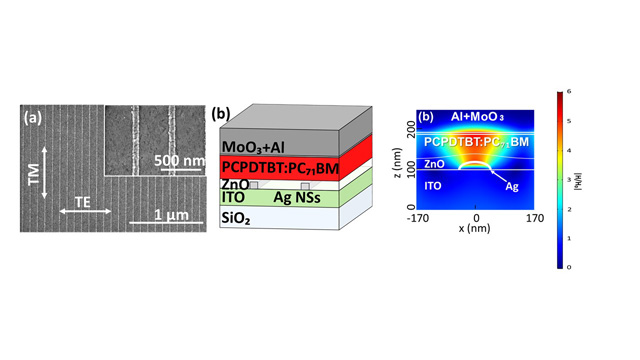 S. Katsumata, T. Isegawa, T. Okamoto, and W. Kubo*, under preparation, T. Isegawa, T. Okamoto, M. Kondo, S. Katsumata, and W. Kubo*, "P3HT:PC61BM solar cell embedding silver nanostripes for light absorption enhancement", Optics Communications, 441, 21-25, 2019,

W. Kubo
, Y. Yokota, and T. Tanaka, "Au nanodot lattices with well-controlled in size and density for thin organic solar cells", Physica Status Solidi-Rapid Research Letters, 9, 348-352,
2015
.
(3) Manipulation of VO2 phase transition temperature by plasmonic local heat プラズモンによるVO2相転移制御 
プラズモン共鳴下における金属ナノ構造体の局所熱や熱電子を利用し、相転移材料である二酸化バナジウム(VO2)の相転移特性を任意で制御する研究を行っています。高速スイッチングデバイスやスマートウィンドウへの展開が期待できます。将来的にこの研究は、物質固有の物性を任意で制御する、新しい物性制御法に展開すると期待しています。低エネルギー駆動型超高速スイッチング素子への展開が可能です。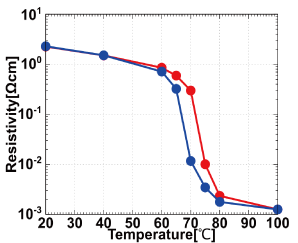 (4) プラズモニック・メタマテリアルの電磁界応答特性の解析
(イギリスSouthampton大学 Fang講師との国際共同研究)

X
. Fang, S.Yaginuma, W. Kubo, T. Tanaka, "Resonance enhancement of difference-frequency generation through localized surface plasmon excitation" Applied Physics Letters, 102, 203101-203103, 2013.
(5) プラズモンセンサー(Canada McGill大・理研との国際共同研究)


A. Abumazwed, W. Kubo, C. Shen, T. Tanaka, and A. G. Kirk , "Projection method for improving signal to noise ratio of localized surface plasmon resonance biosensors", Biomedical Optics Express, 8, 1, 446-459, 2017.

(6) キラルメタマテリアル構造の光学特性(Belgium Mons大学Kolaric教授との国際共同研究)

L. Olislarger, W. Kubo, T. Tanaka, S. Ungureanu, R. A. L. Vallee, B. Kolaric, P. Emplit, and S. Massar, "Propagation and survival of frequency-bin entangled photons in metallic nanostructure", Nanophotonics, 4, 324-331,
2015
.