Event
Talk: "JICA Activities and Aid Projects in Vietnam"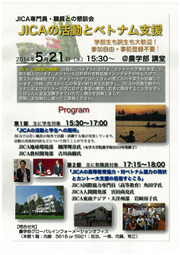 Download the leaflet (Japanese only) (PDF: 1039KB)
Date and time
May 21st 2014 (Wednesday), 15:30-18:00
Location
Fuchu Campus Lecture Hall (at Main Bldg.)
Contents
Part I: Talk - "JICA Activities and Expectations for Students"
15:30-17:00 (for students mainly)

Part II: Seminar - "Current Status of JICA Cooperation at Higher Education Level and the Cooperation in Vietnam - Expected Outcomes from the Cooperation with Can Tho University"
17:15-18:00 (for professors and staff mainly)
You can choose to participate in either one or both parts
Language
Japanese only. No previous registration needed.
Contact and Info
Global Information Office
Fuchu Campus Main Bldg., 1F
E-mail: leadag(a)cc.tuat.ac.jp *please substitute (a) by @
Phone: 042-367-5618/5921 (Ichijo, Naitoh or Arie)